I love to bake! To me, it is very rewarding to work up something for my family to enjoy.
A few years ago, I would have served up a cake made from a cake mix, today you will more than likely get Chocolate Infused Depression Cake, Whole Wheat Pumpkin Muffins, Strawberry Shortcake or some other from scratch dessert. I love sharing my recipes with others, and I like it when others share their favorites with me.
That is where you come in.
A friend of mine, Kate from Cooking During Stolen Moments, has partnered with Share Our Strength to create the Virtual Great American Bake Sale. Each year Share Our Strength asks people to host bake sales in their communities with all of the proceeds going to their ultimate mission – making sure no child goes hungry! The virtual bake sale is going to spread this movement to the blogosphere. We all know the power of the blogosphere!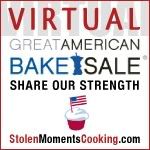 For this backwards WFMW, I'm asking for recipes to be added to the Virtual Great American Bake Sale. Kate has all the details on the Cooking During Stolen Moments site, so head over there to see how you can participate. But, you better hurry–deadline for entries is April 5th.
I can't wait to get the e-book and try out all of the different recipes you have submitted. Sharing, and helping others, definitely works for me!